As On Page search engine optimization refers to those SEO Activities through which we optimize our blog posts or article, here we are Providing you with complete Information. Whenever we create a blog, our aim is to rank on the top page of Google or other search engines, for which On Page SEO is most important.  We have to do On-Page SEO of our article in a good way, only then can our blog rank on the first page of Google after some time.
On-Page SEO is 99% in our hands, so the better we do On Page SEO of our blog, the more chances of ranking the blog increases.
Through this article, we will tell you what is On Page SEO and how to do it. I have full hope that after reading this article, you will not need to go to any other article.
So let's start this article without taking much of your time and first of all, know what is On age SEO.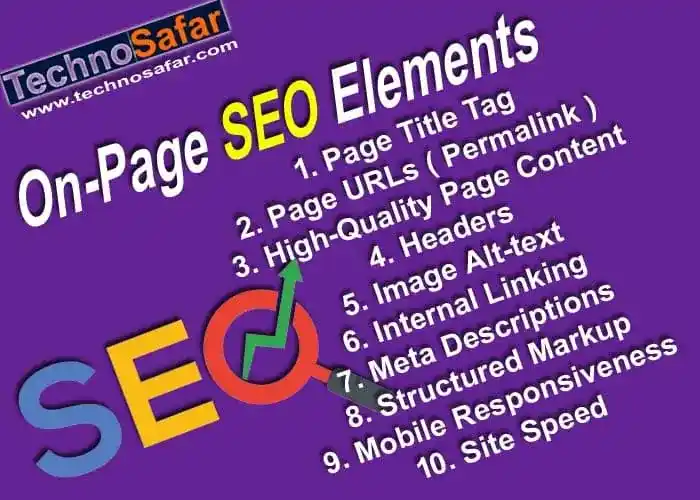 What is On Page SEO?
Whatever work we do on our blog or website to get our blog ranked on the first page of the search engine is called On-Page SEO. Factors like content, meta tags, keywords, etc. come under On-Page SEO.
On-Page SEO is the most important factor to get any blog ranked in the search engine, so SEO experts also recommend paying more attention to On-Page SEO. On-Page SEO is also called On-Site SEO.
On Page search engine optimization refers to these Checklist
➡ Follow this On-Page SEO Checklist: –
Crawl your website.

Conduct an SEO audit and define your site architecture.

Update URLs, page titles, and meta descriptions.

Make sure your keyword is in your URL.

Include your keyword throughout your page.

Track keywords and topics for each page.

Don't keyword stuff.

Establish value propositions for each page.

Define your target audience.

Plan new page titles.

Add new meta descriptions.

Review and edit page content as needed.

Incorporate visual content.

Optimize your visual content.

Add internal links.

Add external links.

Optimize for conversions.
 ➡
How to Do On Page SEO?
Let's now know how to do On-Page SEO. Without On-Page SEO, you cannot even get quality content ranked in the search engine, this is the most successful way to bring organic traffic to every blog and website. We have further told you the complete On-Page SEO Checklist step-wise.
By the way, there are changes in Google's Algorithm, due to which there are changes in the technique of SEO. That's why in this article we will talk about those factors which remain constant in Google's search engine. This means those factors and tricks of On Page SEO that are already running and still work today.
 ➡

On-Page SEO Elements
Page Title Tag

Page URLs ( Permalink )

High-Quality Page Content

Headers

Image Alt-text

Meta Descriptions

Structured Markup

Mobile Responsiveness

Site Speed
On Page Optimisation
#1 –

Do keyword research before writing an article
Friends, it is always very important to do Keyword Research well before writing an article. Because the blog ranks quickly only through a correct keyword. For whatever topic you are writing an article, it is necessary to first find such a Keyword, which is searched more, and there is less competition on it.
There are keywords Short Tale as well as Long Tale, and both types of keywords rank on search engines. If you are new in the field of Blogging or you have a new blog, then you should always work on Long Tale and Low Competition keywords only then you can get quick success in Blogging.
Let us also understand the keywords Short Tale and Long Tale at a glance.
Short Tale Keywords are such keywords in which 1 to 3 words are used.

Long Tale Keywords are those keywords in which more than 3 words are used.

When we write articles, we also use two types of keywords – Primary Keywords and Secondary Keywords.

Primary Keyword – Which is the main keyword of our article is called primary keyword. Primary keywords are also called focus keywords. The primary keyword is always the same throughout the article. Like I am writing this article on On Page SEO. So my primary keyword is "how to do On Page SEO". This is a Long Tale keyword.

Secondary Keyword – Whenever we do keyword research, apart from the primary keyword, we also find other keywords, these are called Secondary Keyword or LSI ( Latent Semantic Indexing ) Keyword, it is related terms that search engines use to deeply understand about that article.
#2 –

Write Quality Content
After doing keyword research, the next step comes to writing Quality Content. Quality content is one that can satisfactorily answer the user's query. Write the content in simple words and make the article unique by adding some new and interesting information. Unique articles perform well in search engines.
 ➡ Here You can notice my content contains…
Lots of white space

Easy-to-read headings and sub-headings

Bullet points

Images

Links
Google gives priority to high-quality content on which users stay for a long time. To write high-quality content, you should spend more time on content research. And always remember one thing "Content is King".
#3 –

Write Unique Articles
A blog post can be ranked quickly in Google only when its article is unique, if you write an article by copying and pasting from someone else's website, then the chances of your blog getting ranked in Google are reduced and along with it you Punishment may also have to be faced.
Google can also block the website by publishing copy-paste content in the blog. That's why you should always try to write Unique Article.
By the way, you will find many tools on Google which will tell whether your article is unique or not. You have to type on Google – Free Plagiarism Checker, here you will get many free tools. However, these tools should not be trusted blindly. But if you have doubts about the copyright in your article then you can use this Plagiarism Tool.
#4 –

Pay attention to article length
You should always try that your article should be of at least 1500 to 2000 words because articles that are longer in length increase their chances of ranking in Google. But do not try to make the article unnecessarily long, keep the length of the article according to the topic.
Whenever you write an article, try to give complete information and cover maximum topics, by doing this you will have a lot to write.
#5 –

Optimize the title
The title is a very important factor in On-Page SEO. The title is visible to the user in the search engine result page and it also increases the CTR. If you make a mistake in optimizing the blog title, then even after ranking on the first page of your article, clicks will not come.
You can use the focus keyword in the title, and try to write the keyword at the beginning of the article. You should write the title of a maximum of 20 to 30 words only then it will appear completely on the search engine result page. You can also write the title in fewer words than this.
#6 –

Use Heading Tags
Heading tags are used to separate different topics in a blog post. Heading tags are very important in SEO. These are HTML elements by which the search engine crawler crawls the webpage by identifying various headings in the blog post.
If you do not use H1, H2, H3, etc. tags in your heading, and instead do formatting of heading, then a user will easily read what is the main heading of your blog post, and the rest of the heading What is.
But those crawlers will not be able to understand from where your webpage starts, which paragraphs are there, what is the heading, and as a result, it will crawl the whole blog post considering it as a paragraph, which will not rank the webpage on your keywords. Will get That's why heading tags are very important for crawlers to understand.
The H1 tag is the most important of all heading tags, you should use only one H1 tag in the entire blog post. You can use the focus keyword in the H1 tag.
#7 –

Use Meta Description
Meta Description is a summary of the entire blog post, through which you tell the search engine and user what information is there in your article. Like the title, the meta description is shown on the search engine result page (SERP). You can also write meta descriptions by combining 3-4 keywords.
You also have to keep one thing in mind here write a description of maximum of 150 words because only about 150 words of description appear in SERP. You can write the focus keyword at the beginning of the description.
By the way, it is not necessary that the meta description you write will be shown on SERP, Google can show the relevant description of the user's query from your article on SERP.
#8 –

Create SEO-Friendly URL
Such a URL of a blog post that remains customized from the Point of View of both the search engine and the user is called SEO Friendly URL. URL is also called Permalink. The URL of the blog post should be such that the user and the crawler can understand what the blog post is written about.
The URL of this blog post of mine is "https://technosafar.com/on-page-search-engine-optimization-refers-to" By looking at this URL it must be clear to you that in this post about the methods of On-Page SEO, It has been told.
 ➡ Following are some tips to create SEO-friendly URLs –
Use the focus keyword.

Do not use Special Characters (#,$,&,%, etc.) in the URL.

Use the (-) sign to separate two words.

Try to keep the URL short.

Write the URL in English or Hinglish only.

Use short English words in the URL.
#9 –

Do Image SEO
Make sure to use at least one image in your blog post and it is also necessary to do SEO of the image. Because many users also like to see images on the Internet.
If you have done Image SEO, then the image of your blog can come on top in the image section of SERP, so that users can reach your blog by clicking on the image. To do Image SEO, you can take care of the following things –
Always use copyright-free images. There are many such websites on the Internet which provide copyright images absolutely free of cost. Like – Pixabay, Unsplash etc.

Change the name of the image, you can use keywords in the image name.

Use Alt Text in Image, Use Relevant Text of Image in Alt Text.
#10 –

Do Internal Linking
Internal Link is also called Inbound Link. Internal linking is very important in SEO, if you do internal linking with the right strategy, then users stay in your website for a long time, due to which your Bounce Rate is maintained, page views increase, and also Link Juice from internal linking. Also passes, so that you can increase the authority of your blog.
#11 –

Make External Link
External Links or Outbound Links should be used in the blog only when necessary. External links are often used to confirm something in a blog post.
As you must have seen in many blogs that it is written in the article "According to Wikipedia", then here the related post of Wikipedia is linked to confirm the fact. You should be careful in using external links after the Google Link Spam Update.
You can keep the following things in mind while linking externally –
Sponsor Affiliate Link and all Paid Links (i.e. the link for which you took the money instead of giving it).

No follow the link of the Untrusted website.

Don't link spammy websites.




Link the High Authority website only.
#12 –

Use Schema Data
Schema Markup or Structure Data is a microdata of a blog or webpage, which is in a language that search engine crawlers can understand. Through schema markup, you can better explain your webpage to the search engine crawler.
Using schema data increases the chances of your webpage appearing in Rich Snippet. Rich Snippet is a place in SERP that search engines show in a very unique way, which leads to CTR Increase.
#13 –

Make a mobile-friendly

website
In today's time, about 60 to 70 percent of users access the internet through mobile only, so it is very important to make your website mobile friendly.
If your website is not mobile-friendly, then the website will not perform well in mobile and search engines will not give a good ranking to your website. You can use Google's Mobile Testing Tool to check whether your website is mobile-friendly or not.
If your website is on WordPress then you can use a lightweight and responsive theme like GeneratePress to make the website mobile-friendly. Or you can also make the website mobile-friendly through Google AMP.
#14 –

Make the website fast loading
Along with making the website mobile-friendly, it is also necessary to improve the loading speed. The loading speed of the website is becoming a direct ranking factor. If your website takes a long time to load, then users will not like to visit your website, nor will the website perform well in the search engine result page. That's why it is very important to fast the loading speed of the website.
#15 –

Fix the Indexing Issue of the Webpage
To get a webpage ranked in Google, it is necessary to have its indexed, without Indexing no webpage can rank in Google. If your webpage is not getting indexed in Google, then check through Robot Tag and Robots.txt File that the indexing of the webpage is not blocked.
If the indexing of the webpage is not blocked by these two, then find out why your webpage is not getting indexed and fix the problem. You can read this article for more information.
#16 –

Fix Broken Links
Many times a Broken Link is created in the blog due to various reasons, and this Broken Link negatively affects the ranking of the blog. Therefore, if a broken link is created in your blog, then find the broken link through the online Broken Link Checker tool and fix it as soon as possible.
#17 –

Use Share Buttons
Use social share button in blog. Although social share buttons do not directly affect the ranking of your blog, but indirectly they affect the ranking of the blog. Let's tell how?
The blog or webpage which is shared more, then it gives a direct signal to Google that the content present on this webpage is useful for the user, so Google gives good ranking to that webpage.
#18 –

Publish new blog posts regularly
Publish new posts regularly on your blog, this will also increase traffic on your blog and improve your ranking. Google also gives good ranking to such blogs which regularly publish blog posts. Always publish blog posts in a schedule.
Like you publish 3 blog posts every week, then keep it Continue, also keep the day and time of publishing the post fixed. You will get a lot of benefit from this.
#19 –

Regular Update old posts
Along with publishing new posts in the blog, update the old posts as well, updating the old posts does not make any of your posts Outdated and every post of your blog remains fresh.
When you update the post, then add some new and updated information to the post. You can publish the post on the new date by updating it.
#20 –

Keep the website design simple
Keep the website's look clean and simple, do not spoil the loading speed of the website due to excessive brightness. Too flashy website can also distract the user's attention.
Last word: How to do On-Page SEO
So friends, in today's article, we learned what is On-Page SEO. If you do On-Page SEO of your blog keeping in mind all the things mentioned in the article, then your blog will rank on Google in a very short time.
That's all in this article, I hope you liked this article and it was helpful for you. If you still have any doubts regarding On-Page SEO, then you can ask in the comment box, we will try to answer your questions soon. And if you liked this article then do not forget to share this article on social media.
 ➡ You Can Read Also: 
Top 20 Amazing Free SEO Tools List 2023
100 Best Guest Posting Sites for Backlinks & Traffic 2023
Backlinks -15 Amazing ways to make High Quality
About Author