Best AI Image Generator Apps
Images created with the help of AI have created a buzz on the internet. Using modern AI apps, Here are Best AI Image Generator Apps by which you can turn your ideas into amazing and inspiring art. Through these apps, you can also give a new look to your old photos, in which you can bring out the creativity hidden inside you in a very beautiful way.
Quick Answer:
It is absolutely true that nowadays Artificial Intelligence has become a hot and discussed topic in the industry. At this point, there are many apps that can help you create beautiful and unique works of art with ease.

Using simple text prompts, people all over the world are unleashing their creativity and creating eye-catching images with the help of AI.

In this post, we will tell you about some great AI Art Generator Apps for both iPhone and Android. These apps come with simple interfaces and straightforward guides, so you'll be able to create great images with AI without any hassle.
As you must have heard, Artificial Intelligence (AI) is slowly becoming popular in the last years. In this new edition of AI, many online AI Text-To- image Generator Apps are emerging. From the Best AI image Generator like DALL-E to every little app, you'll find tons of options to generate the art of your imagination.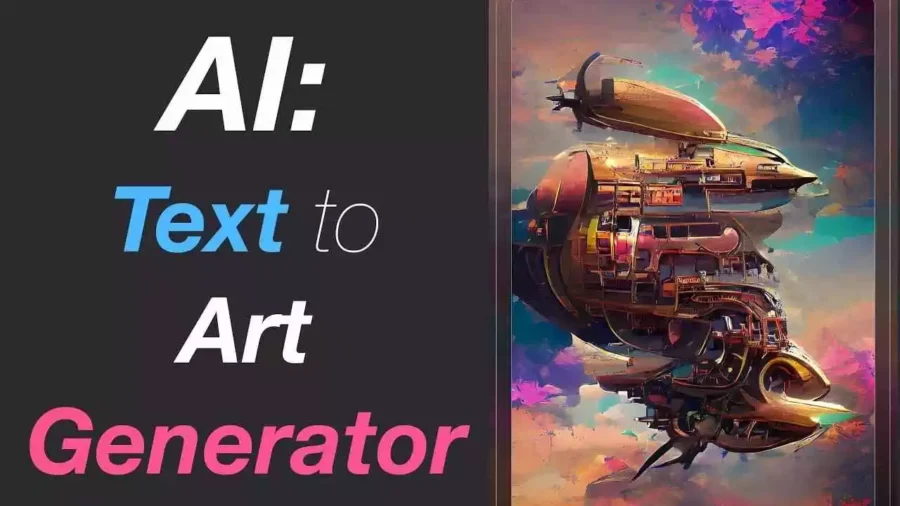 However, not every AI text-to-art generator is perfect, and there are apps that let you play with the prompts to unleash your creativity. Therefore, we are preparing a comprehensive list of Best AI image Generator Apps for iPhone and Android for your help. So, if you are interested in AI Art, then check out the details of Best AI Image Generator Apps given below and give them a try.
Read Also: Top Best AI Tools for Business – 2023
What Is AI Art ?
AI art refers to artistic works generated or influenced by artificial intelligence algorithms. These algorithms are designed to mimic human-made images and artistic techniques, allowing computers to generate drawings, paintings, sculptures, music, and other works.
AI image Generator and How Does This All Work?
By 2023, many Best AI Image Generators Apps and Websites have come in the market. We have used dozens of AI Image Generators . Some research labs like MidJourney, Stable Diffusion and OpenAI's Dall-E have paved the way for AI Generated Art , which people are now liking.
Artificial intelligence has revolutionized the field of art by introducing image generators that use complex algorithms to create or edit your photos. These intelligent systems are trained on a wide range of existing art and through the use of machine learning, they are able to enhance your photo.
The popularity of AI Generated Art is growing rapidly and it is now being used for multiple purposes such as creating unique social avatars, designing marketing materials and even creating stunning visual effects in film making. AI image generators come in a variety of categories, ranging from anime, cute, and royal to cyberpunk, rock stars, and astronauts.
For those who want to create their own AI Avatar, there are many apps available that can help them in this task. The most attractive aspect of AI Generated Art is that each image created from it is a unique piece in itself.
Which Best AI Image Generator Apps Should You Choose?
Considering the number of options available in the market, choosing the best AI image generator apps can be a daunting task for you. Nevertheless, there are some aspects of the same that we are placing before you so that you can take a decision considering the following important factors:
While choosing an AI image generator app , the quality of the art generated by it should be your priority.

Be sure to check out samples or demos of the tool's output to see if it matches the quality level you want and the model you're using.

Look for an app that is capable of working with different input formats such as images, videos or audios.

A simple and user-friendly interface is also important, especially for those who are not already familiar with this AI world.

Also pay attention to the performance of the app if you are looking to take a large number of pictures or videos.

Lastly, consider app paid plans, as some may be free while others may be paid.
Best AI Image Generator Apps for iPhone and Android
1.) Starry AI
Are you looking for an app that can help you create stunning images with just a few taps? Starry AI might be able to help you! With its user-friendly interface and easy-to-use features, this app can generate AI Images for you in a jiffy by typing text prompts.
You can easily download the app for free from the Google Play Store on Android or the Apple App Store on iPhone – and the best part is that you don't even need to create an account. Once you open the app, you will be taken to the homepage.
Here, you will find a variety of beautiful images created by other users. To create your own AI image, simply tap the prompt text bar, type your text prompt, and choose your category from the app's five options: Fantasy, Portrait, 3D Art, or Anime.
As soon as you tap on "Generate", the app will start creating your image. You get 5 free credits to use initially, but if you need more, you can buy them for just $15, giving you 40 credits to use. Then share these images with your favorite social media icons. Can also share on media platforms.
In short, we recommend Starry AI as the perfect app for newbies in the world of AI Image Generator Apps . It is user friendly and can give you a better and unique image.
2.) Lensa – AI Art Image Generator
Lensa AI is a photo editing and retouching application that gives users the ability to create custom avatars from their images. For those who want to create multiple digital versions of themselves, this app is a great option. The app can be obtained for free, and once downloaded, users need to complete a series of steps before the images can be generated.
Lensa uses your images for the new avatar, which requires uploading 10-20 images of yourself. Generating the image in Lensa requires a one-time payment, which usually takes about thirty minutes to complete. According to the app, Lensa uses a Stable Diffusion Deep Learning model to generate images, and all uploaded images are immediately deleted to protect privacy.
In short, Lensa – AI is a great app for creating realistic avatars. Simply upload your images, make payment and let the app create the perfect avatar for you.
3.) Fotor – AI Art Generator App
Friends, there is also a time when we feel creatively stuck, unsure how to get our thoughts down on blank paper. Luckily, there is an app called Fotor that can help us turn our written thoughts into stunning works of art.
Fotor is an AI Art Generator App designed for people who want to enhance their photos and turn them into stunning works of art. With a huge collection of pre-made categories to choose from, users can easily transform their photos into mesmerizing masterpieces.
4.) AI Art Generator
Let us now tell you about this great app " AI Art Generator ". Through this app, you can easily create an Ai image using simple text prompts. But it will cost $5. You get a variety of themes in this app, so you can do digital art, anime, 3D rendering, oil painting, low poly, and more. And here's the interesting thing – if you don't know what to type, you can come up with some fun and unique ideas just by using the random generator.
Like Starry AI, you can create stunning AI Art by entering any text prompt you want or even uploading an image. AI Art Generator is very good in performance compared to other similar apps.
This AI Art Generator App is becoming very popular on the Play Store which currently has a rating of 4.3 stars and more than 100K downloads. If you have 400 rupees lying in your pocket, then you can definitely try it once.
5.) PicsArt – Text to Image AI generator
Listen! Are you struggling to make your social media posts unique? Worry no more, because we've got exactly what you want for you! Let us introduce you to PicsArt. With PicsArt, you can easily convert your plain text into unique images that you can use on banners, posters, and more.
And best of all, it's super easy to use! Just type in your text, and PicsArt will do the rest, creating a beautiful image for you that's bound to get everyone's attention. So what are you waiting for? Try PicsArt and take your social media fan following to the next level.
We have prepared a list of Best AI Image Generator Apps for iPhone and Android and put it in front of you. You can easily create breathtaking AI images in just a few minutes using these apps. We hope that this list will prove to be very useful for you. Keep in mind that most of these apps require a fair amount of text input / text prompts in order to produce the best images possible.
6.) Dall E Generator
Dall E 2 is an AI Based Image Generating and Editing Tool which is currently in the form of a website. Dall E 2 has been created by a website called OpenAi. This is the same company that has created Chat Gpt. In the coming post, we will inform you about the name of Chat GPT and its work.
But today we are going to know about Dall E Generator. You can go to the page of Dall E 2 by searching Dall E 2 on Google or from the link given below. You must have created an Open Ai account when you go here. Which you can use in all OpenAi tools like Chat GPT etc.
7.) Bing Image Creator
Bing Image Creator: A Creative Tool for Image Editing (What is Bing Image Creator?):-
Images have special importance in today's digital age. Whether it is marketing or advertising, social media or any other field, images have their uses. As the importance of image is increasing, the demand for advanced and attractive image is also increasing.
Keeping this in mind, Microsoft has developed an online tool called 'Bing Image Creator'. This tool is designed for image creation and editing which helps the user to create attractive images without great designing skills or expensive software.
Advantages of Bing Image Creator: –
User Friendly Interface: User to use this tool because of user friendly interface.
Easy Equations: Bing Image Creator makes image creation and editing super easy using equations and tools integrated into the interface.
Free Tool: Bing Image Creator is a free tool that you can use in your browser. You do not have to pay any charge.

Creating Attractive Images: Bing Image Creator supports users to create attractive images. This tool helps to create attractive images from local file.
8.) Nightcafe
Nightcafe Image Generator is an AI-powered art tool that creates surreal and dreamlike images inspired by Vincent van Gogh's painting "The Night Cafe." Using deep learning algorithms, it generates unique visuals with a blend of vibrant colors, distorted shapes, and abstract patterns. The generator allows users to control the level of abstraction and style, resulting in a diverse range of artistic outputs.
Nightcafe's intuitive interface makes it accessible to both artists and enthusiasts, enabling them to explore the boundaries of creativity and produce mesmerizing artworks that evoke emotions and imagination through a digital canvas.
9.) Midjourney AI
Midjourney AI is an innovative image generator platform that uses advanced AI technology to create stunning visual content. With its cutting-edge algorithms, Midjourney AI can transform text descriptions into high-quality images, bringing concepts and ideas to life. Whether for creative projects, marketing campaigns, or social media posts, this image generator offers a quick and efficient way to produce captivating visuals without the need for design skills or extensive resources.
Midjourney's AI-powered image generation opens up new possibilities for content creators and businesses, making it a valuable tool in the rapidly evolving digital landscape.
10.) Stable Diffusion
The Stable Diffusion image generator is a sophisticated algorithmic tool used to create visually appealing and stable images. It employs stable diffusion processes to produce smooth and continuous visual patterns, textures, and gradients. By carefully controlling the diffusion rates and pixel interactions, this generator ensures the images remain coherent and visually pleasing.
Example Image: Stable Diffusion AI Image
Stable Diffusion is commonly used in artistic applications, computer graphics, and image processing to generate high-quality, non-noisy images with various artistic effects. Its ability to produce stable and consistent results makes it a valuable tool for artists, designers, and developers looking to create captivating visuals with a seamless and aesthetically pleasing appearance.
Conclusion
In conclusion, the availability of AI image generator apps for both iPhone and Android has revolutionized the way we approach creativity and artistry in the digital age. These apps have empowered users to effortlessly transform their photos into stunning artworks, unleashing the potential of AI-driven image manipulation.
Whether it's turning a simple snapshot into a beautiful painting or adding surreal effects to landscapes, the best AI image generator apps offer an array of possibilities at our fingertips. With their user-friendly interfaces and powerful algorithms, these apps have democratized artistry and made it accessible to everyone, allowing individuals to explore their creative flair and produce awe-inspiring images with ease.
About Author